Johnston County has so many different small towns there's really no telling where stump grinding will take us next! On this job, we ended up in Brogden, an area near Smithfield and Goldsboro, where we ground several large stumps with substantial root systems- leaving you with some gorgeous before & after shots we're really proud of!
When a tree is removed, it can be hard to cut the stump down low flush with the ground. Dirt and other debris can interfere with the chainsaw and quickly dull them- or sometimes even cause the chain to pop right off. Often times when having trees removed, arborists will leave the stump a few inches high to avoid these issues. This isn't the end of the world of course, but the unsightly stump can affect your curb appeal by making the yard look somewhat messy. Before we start grinding the stump, oftentimes we'll take a little off the top to make grinding quicker & more efficient for our machines. On this job, we had a couple of tall stumps we knocked down with our saws before diving right in with the stump grinder.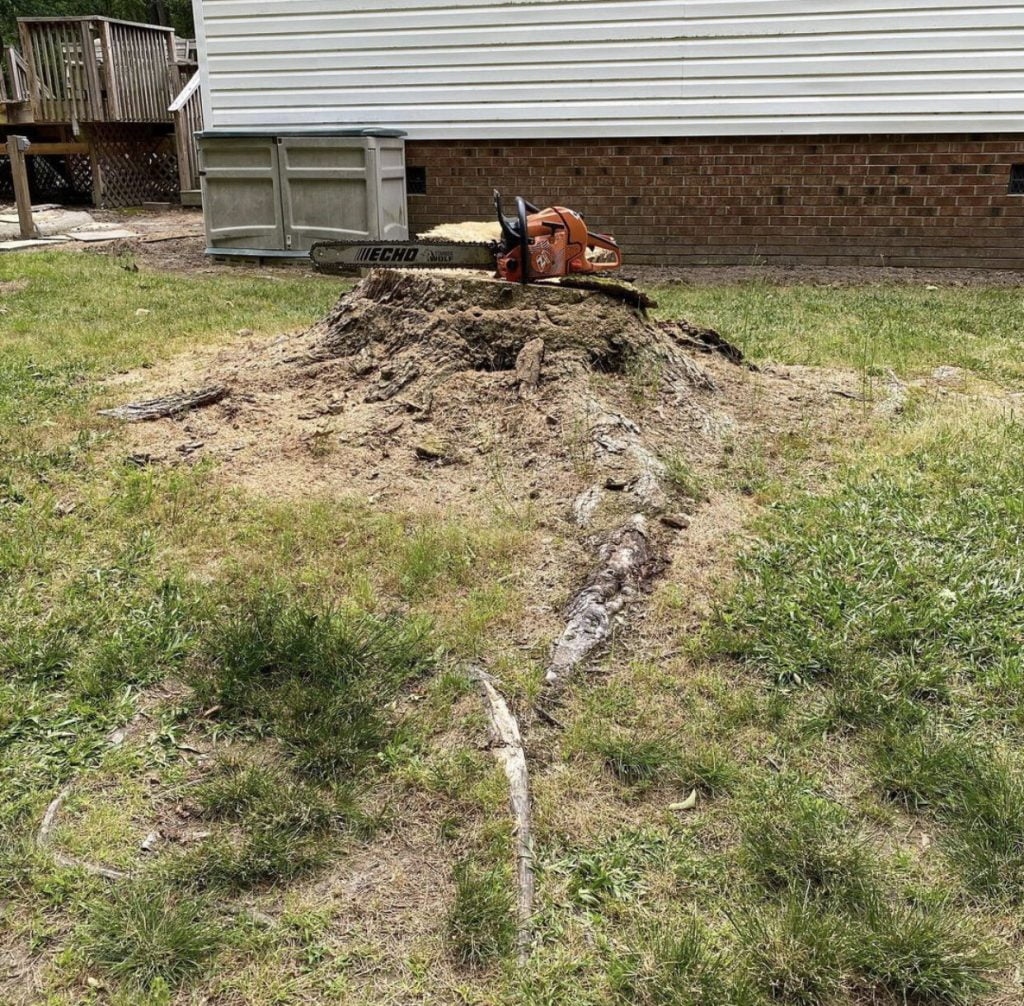 I couldn't wait for the after pictures on this stump in particular, just because it's so gnarly looking. All the roots & lumps in the bark- I knew it was going to be a really cool stump to tackle. But, due to the height of the stump, I wanted to just take the top off before I just dove in and started grinding. This saves me a lot of time in the long run, as well as prevents excessive wear and tear on my grinder. The more efficient I can grind stumps, the better pricing I can give all of my clients.
By taking the top off the stump with the saw, I was able to take 6+ inches off the stump's total height, and get the stump ground in no time!
Even though this stump is only in the side yard, it still drastically transforms the look of the entire property. Stump grinding doesn't have to take place front and center on your property for it to make a huge difference! Once we completed grinding the stump, we raked out all of the grindings and backfilled the hole that was left by the stump. The homeowner can then leave the grindings as good erosion control, or put down topsoil to get some grass growing- either way it's a much nicer & neater look than that monster of a knobby stump protruding out of the ground.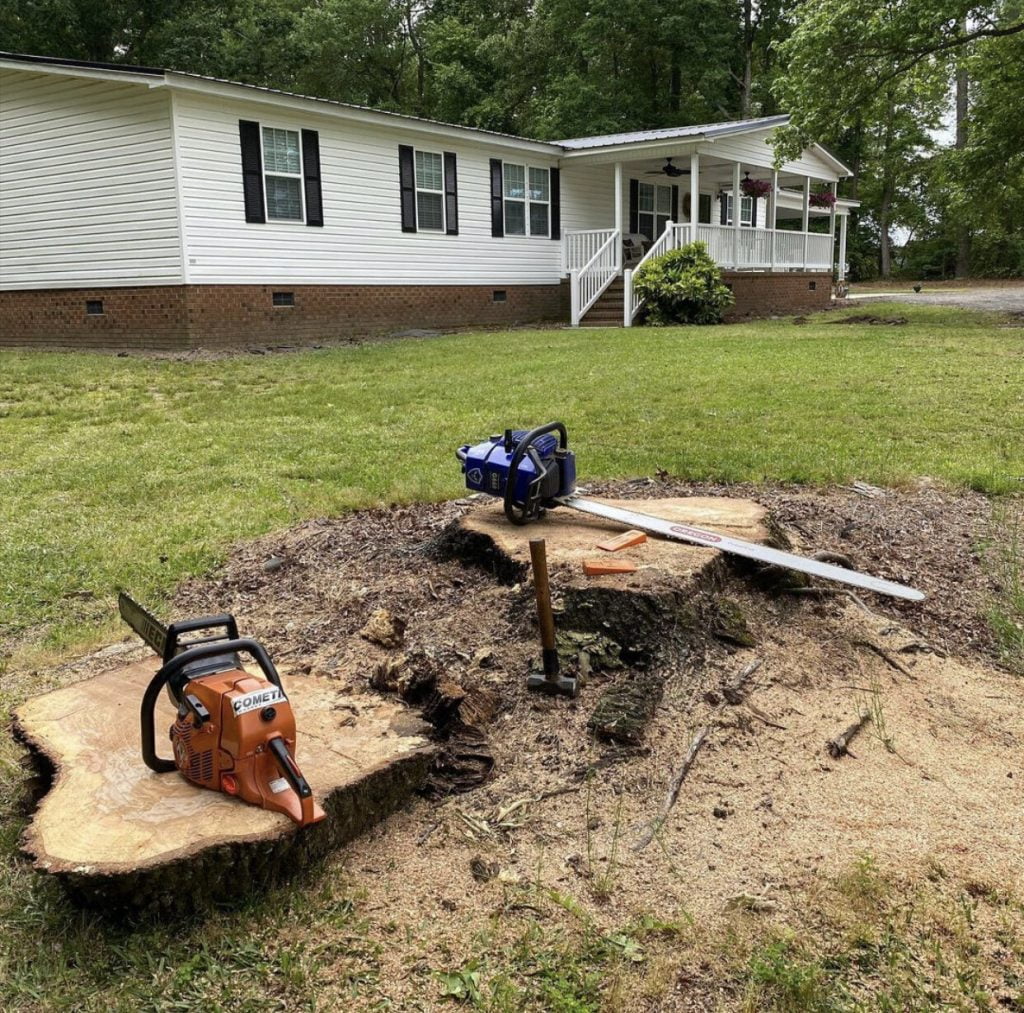 After the first stump was ground we got to the next stump on the property. This one was in the front yard and was a little bit too large in diameter for me to use the 24-inch chainsaw, so I decided to whip out my 48-inch chainsaw for this one. Once again, by taking the top off of the stump I'm able to work a lot quicker with my grinder & get the stump ground in no time.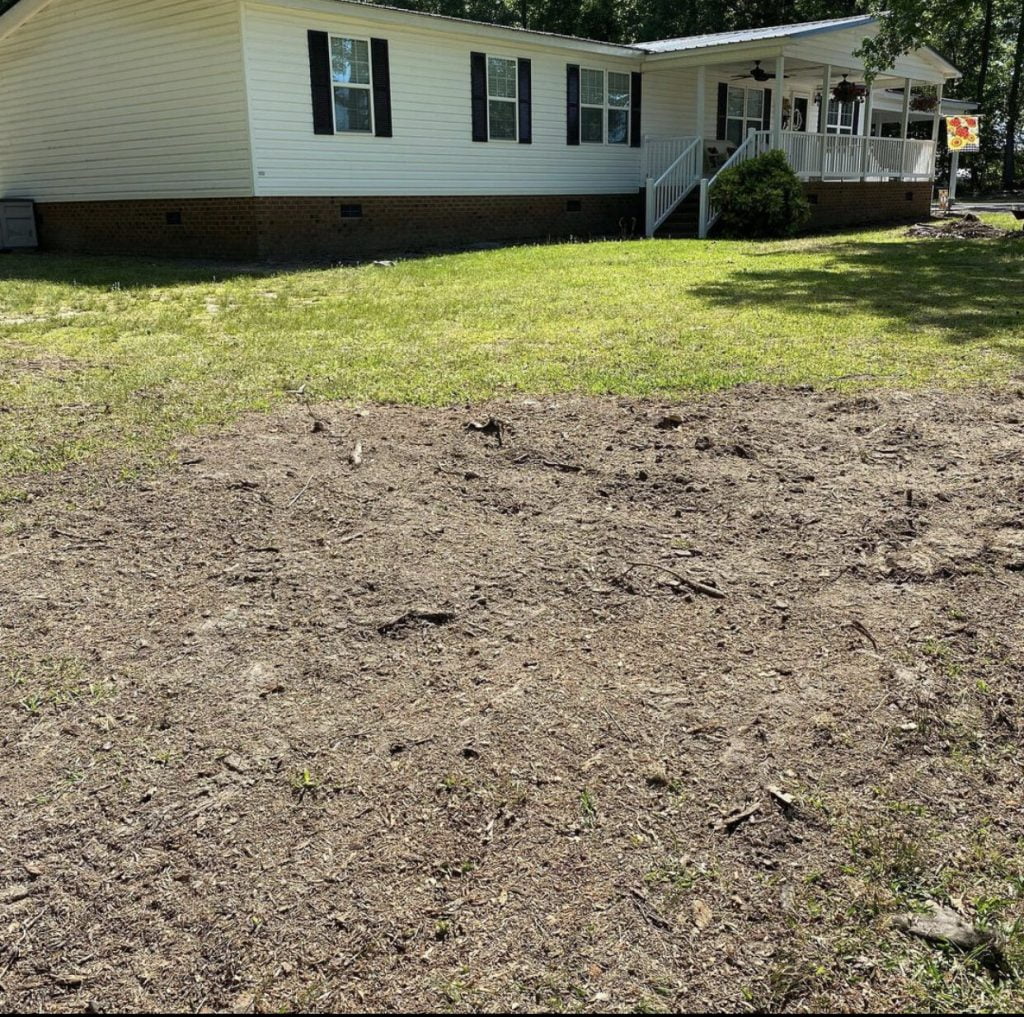 And there you have it! The front yard is left looking well kept & polished with that giant stump out of the way! The last stump out here in Brogden was also pretty large and… you guessed it. We knocked the top off of that one in no time too. One would be surprised and how quickly we can get jobs of this magnitude knocked out just by having the right equipment on hand as well as being experienced in the field as a whole. Stump grinding isn't something to be taken lightly- and although it isn't as complex as astrophysics by any means, it still requires a good amount of experience & expertise to leave the client with a job completed correctly, efficiently, and gorgeous when it comes to aesthetics, functionality, and resale value.
Brogden Area Large Stump Grinding
I really like how this one came out too. In the back of the property this time, it adds definition to the wooded property line and paves the way to really fill out the lawn. Stump grinding is what we do best here at Full Circle Grinding, and whether you live in Smithfield, Clayton, Benson, or Brogden- we are the right choice for the job! As a part of my series this month on the blog, I've been highlighting different towns and communities across our area and featuring some of our favorite stump grinding jobs we have completed in 2020. I hope you've enjoyed coming along on this journey with us, and we look forward to meeting you & grinding your stumps in the future! Stay tuned for more before + after shots, job descriptions, and nuances about stump grinding to keep you informed for when you have to grind on your own property.
Until next time,
Brent