As time passes and our business continues to expand, we are grinding stumps in Dunn which is further and further out from our hometown of Clayton; this year especially. In this job snapshot, I'll show you one of our bigger stump grinding jobs we completed in Dunn, NC- located in Harnett County just south of Benson.
We love all jobs big & small- but it's always so exciting to get to tackle jobs where the tree has fallen, causing the rootball to lift up out of the ground (as seen below). In wet conditions with lots of wind (like the record-breaking hurricane season we just went through), the ground can become so saturated with moisture that the roots that anchor the tree into the ground can start to have some wiggle room.
Especially if the tree is already leaning in a certain direction, one straight-line wind can easily send the tree toppling over as the roots just can't hold all of that weight down anymore. If there are any trees leaning towards your home, it's always a good idea to look into removal before anything happens. Even the largest amount of roots below a stump can't always hold a tree down when the conditions are right.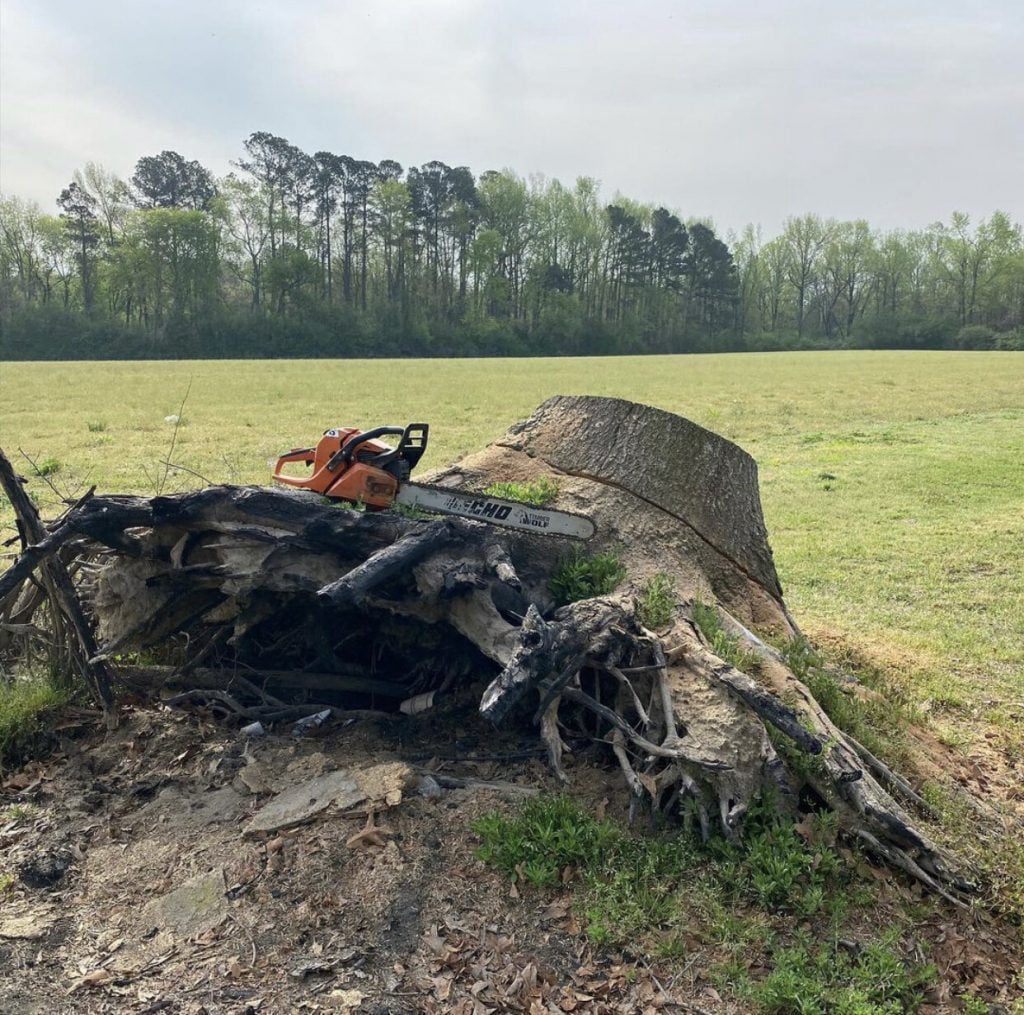 Thankfully this tree didn't fall in the direction of a home, but it still left quite a mess! Notice how the roots beneath the tree look blackened? Burning stumps is often very ineffective, and stump grinding is the most time-efficient way to get stumps completely removed.
Even if you were able to get a stump of this magnitude burnt all the way down, it's still going to have a substantial amount of stump/root still below grade- eliminating the possibility of proper turf establishment in the future. Besides,, who has the time to babysit a burning stump for a week?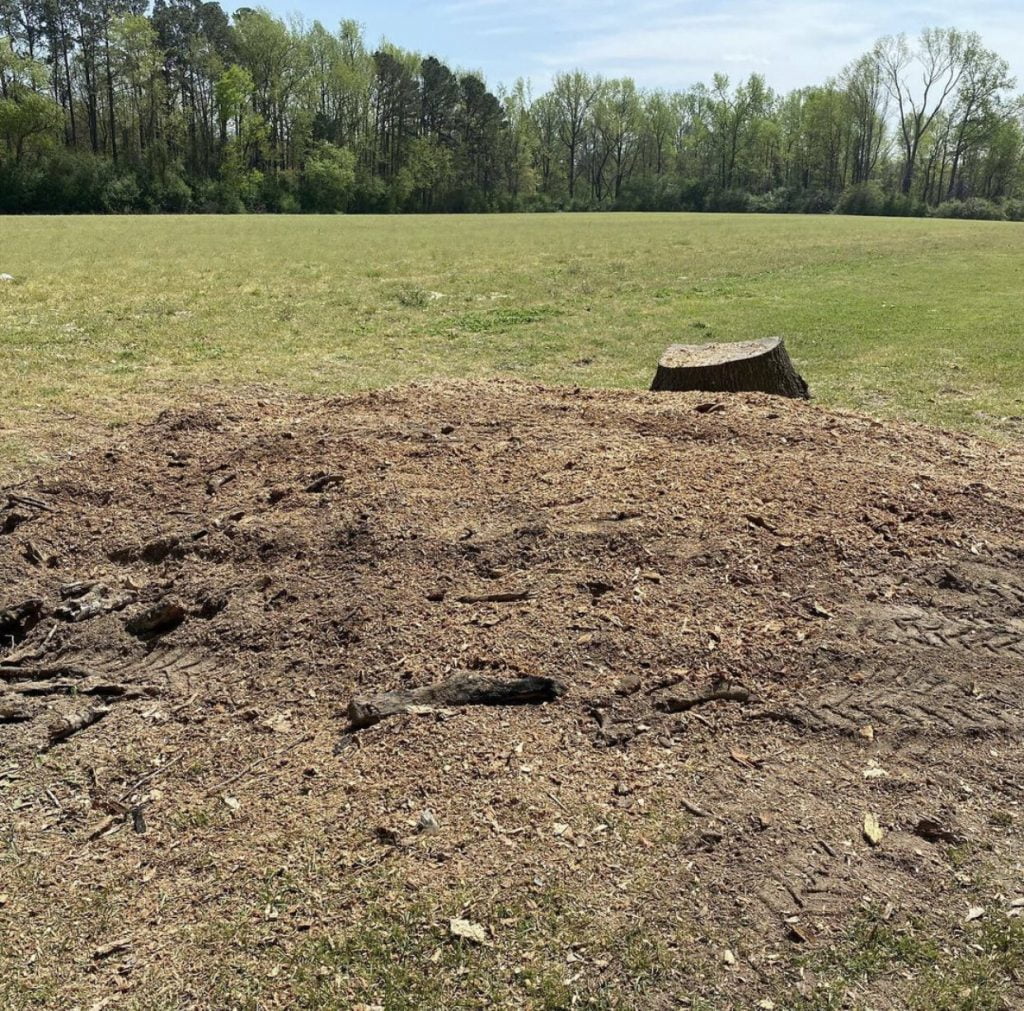 By having the stump ground, the homeowner can now add topsoil & plant grass without any worries of it dying in the future. If a stump isn't ground a minimum of 6 inches below grade, it will kill the grass above it over time due to the rotting process beneath the topsoil- and if you've ever tried to grow grass before, you know how heartbreaking it would be to invest all of that time and money all for an improperly ground stump to ruin it for you!
There were several other stumps that needed to be ground on this job in Dunn. With one of them being near the driveway, and another being closer to the road, we knew that calling in an 811 request was a non-negotiable. Underground utilities typically run parallel with the road, then follow the driveway up to the house. When having any sort of work that breaks through the dirt, ESPECIALLY stump grinding which can go up to 12 inches below grade for some clients, calling in a free NC811 request ensures substantial peace of mind.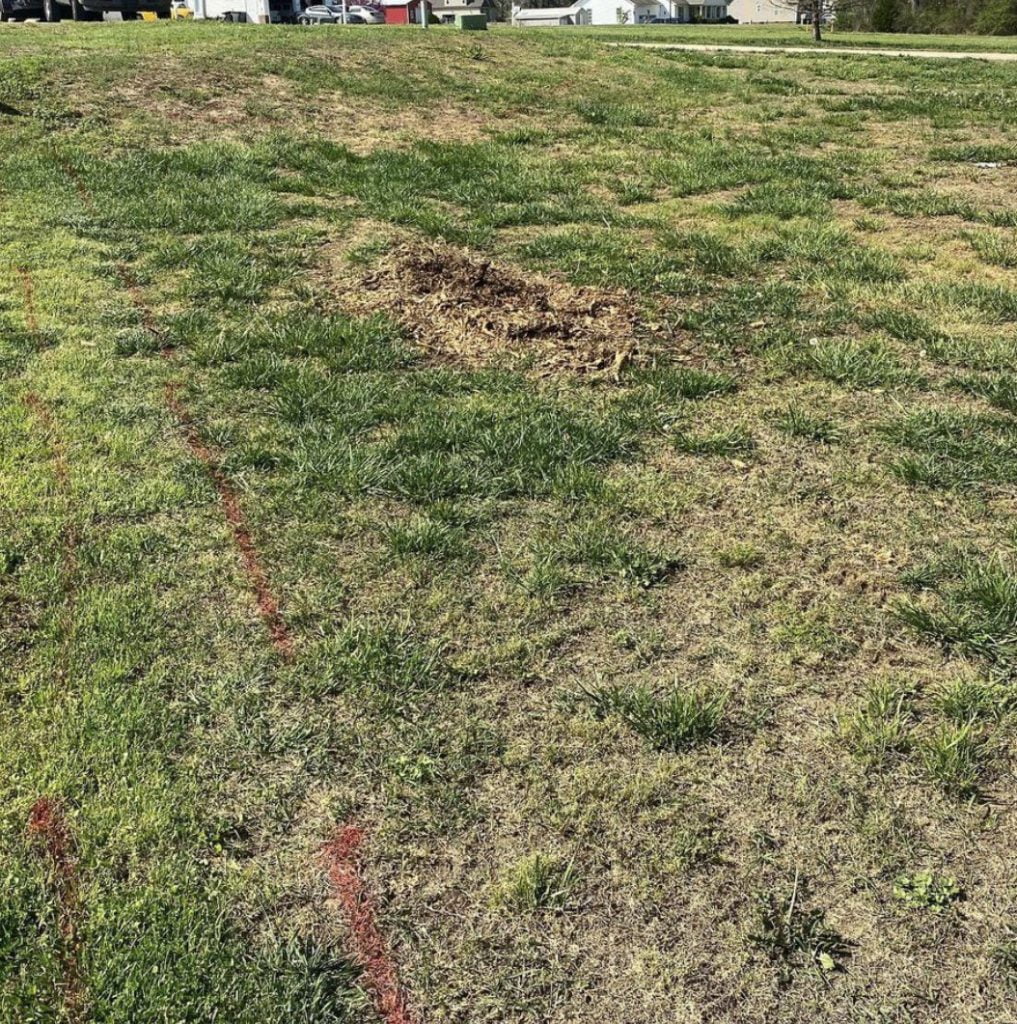 Thankfully, this stump steered clear of the underground utilities- but check out how close the underground power lines were (red spray paint lines). If we had been called to do any sort of root tracing, in addition, to stump grinding for this stump, and didn't bother to call in an 811 request… it could have been a real mess. We're so thankful for this service, as it gives us the peace of mind to knockout the stump grinding without any worries of accidents involving our crew or our client's property.
Dunn Project Stump Before Grinding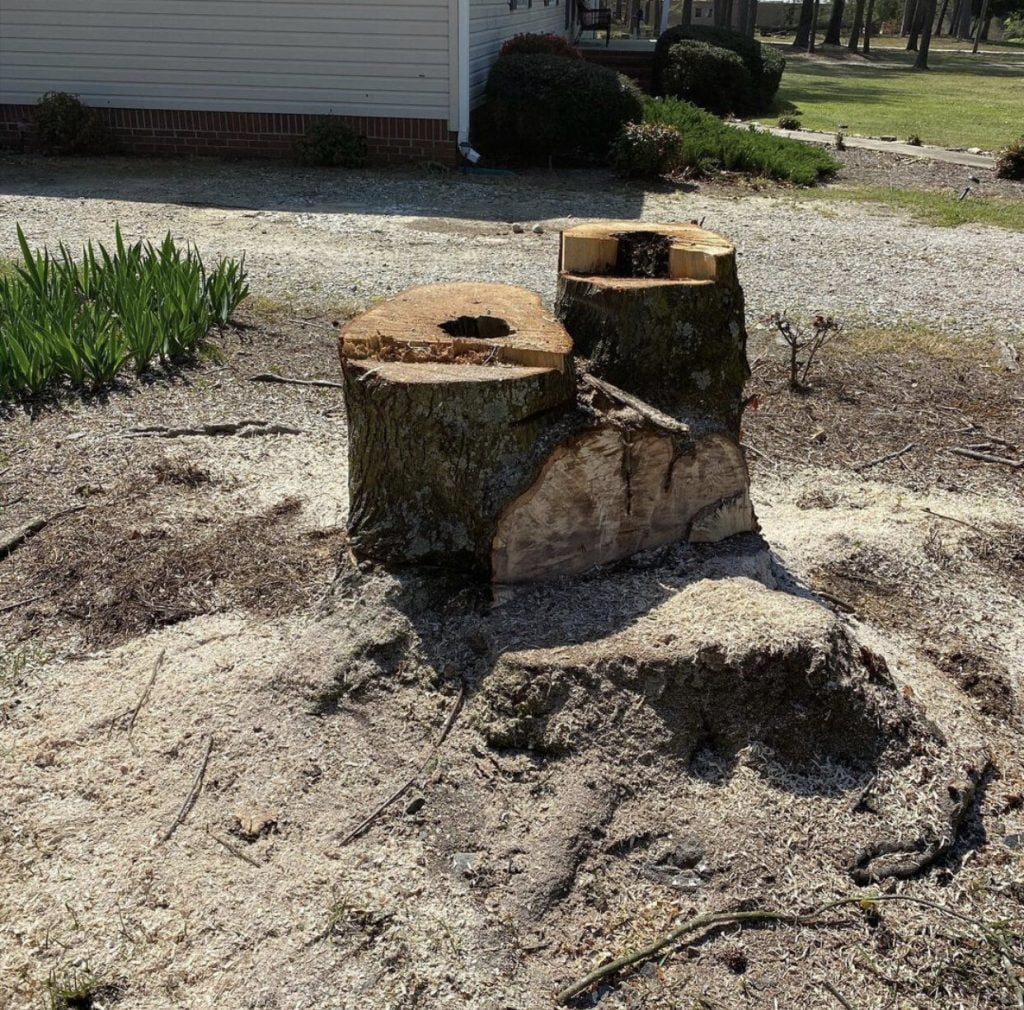 Dunn Project Stump After Grinding
There were no underground utilities to conflict with this trinity of stumps either- it's truly incredible how three trees could get so large on top of each other like this!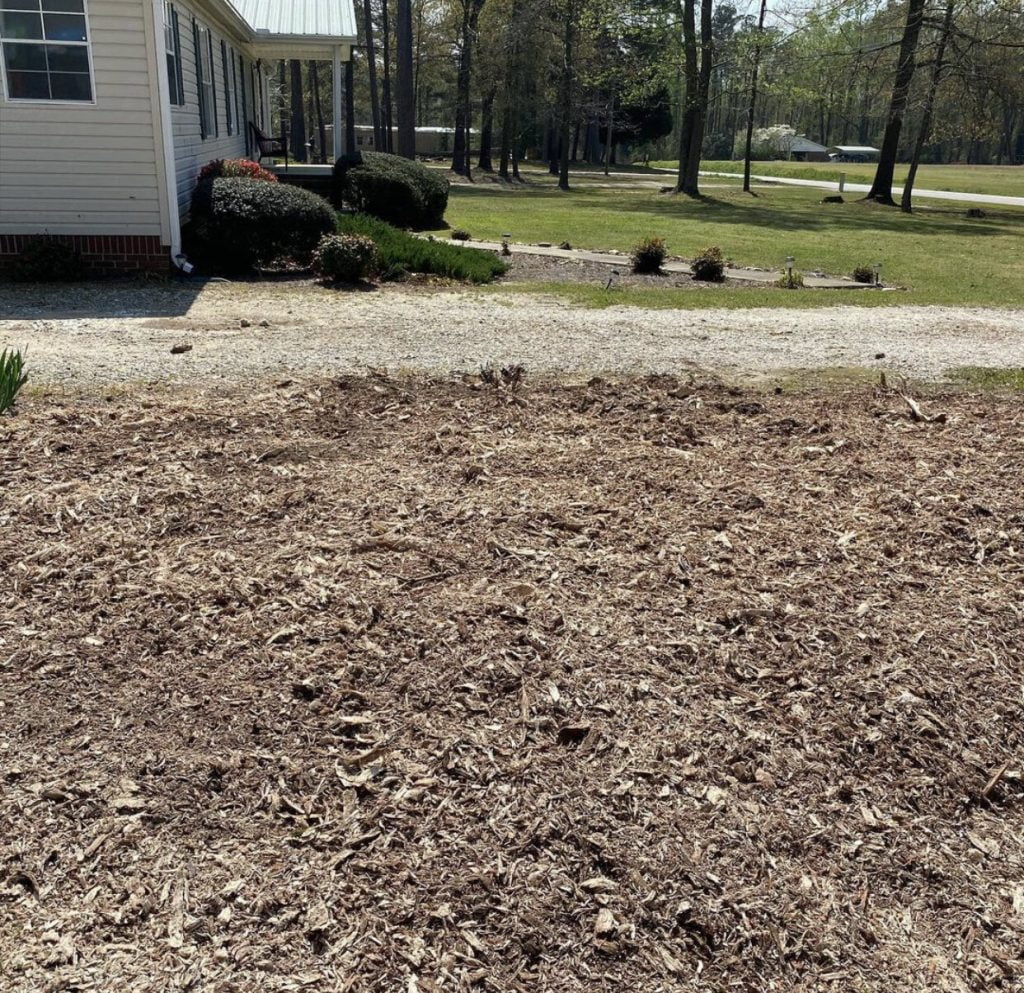 Stump grinding does more than you think for your curb appeal. By having this cluster of stumps ground, the client's front yard changed drastically, leaving them with a more tailored & clean look- along with the potential for new landscaping like shrubbery or sod.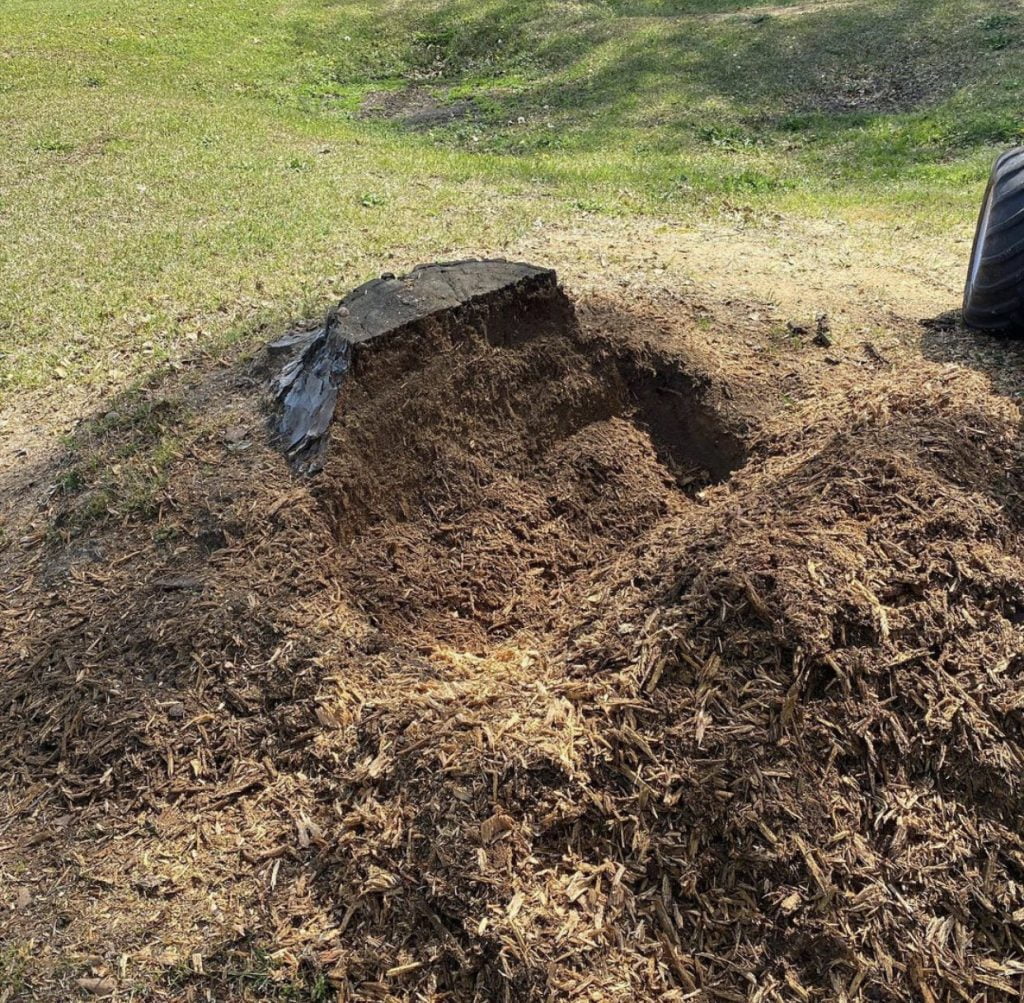 Here's the final stump we ground on this particular job out in Dunn. We do offer the option to have the grindings hauled off for an additional fee, which some clients prefer as there are a lot of grindings left over when we finish!
But by leaving the grindings behind, can help promote erosion control in the area and serve as a good bottom layer when you get ready to plant grass. It can also really help polish up a preexisting natural area in your yard. Once we finish grinding a stump, we always are sure to backfill the hole with the grindings and do any blowing/raking we can to leave the area looking neat & clean.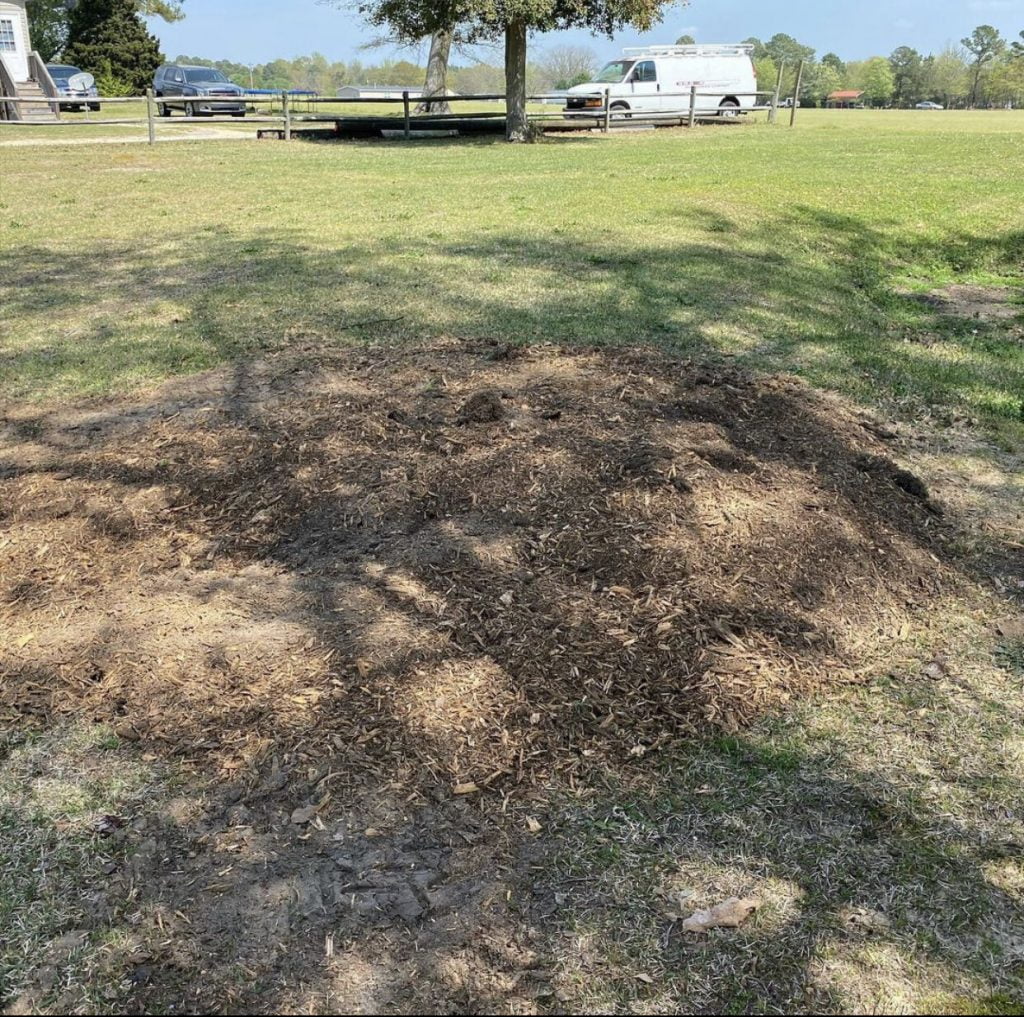 That's a grind!
It's been a lot of fun digging back through job photos from this year so far, and there's much more to come! This is only post #3 and it's only December 9th. You may only get to see a picture of a stump grinder, or a before and after of a ground stump- but we see so much more than that. We've met so many different people across Johnston County and surrounding areas this year, and looking back through photos we remember each client that we've been lucky enough to meet. I'm not trying to get too "sappy" on this post, but it's truly incredible to think that stump grinding and tree removal could lead us to get to interact with so many cool people this past year. To all of our past clients- thank you for supporting us on our journey so far!
Until next time,
Brent