It's been a busy few months for us, and with the weather getting warmer, more people are enjoying the outdoors and getting their yards prepped for summer! Firefighters are no exception! This stump grinding for the Clayton Fire Department is one of the most rewarding projects to date.
We were excited to get called on to knock this job out in Downtown Clayton this week and get some stumps removed at the Clayton Fire Department. Our jobs in Clayton have been on the rise, recently we did this lot Clayton lot clearing for Banner Enterprises.
Large Stump Removal
Clayton is such a gorgeous small town with a rich history. Many giants, century-old trees still stand in the area, but as time goes on they may need to be removed due to their age and all the size of their limbs causing a safety hazard. I'm sure this one would have stories to tell if it could talk!
Small Stump Removal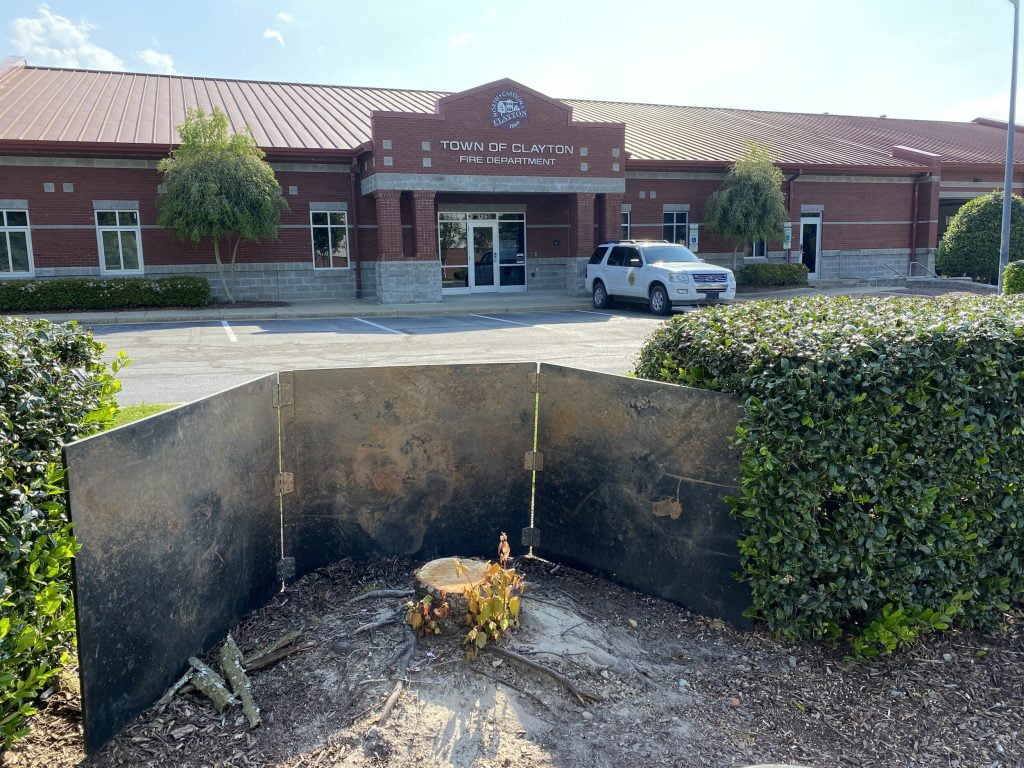 Unless a client has specific needs or requests that need to be accommodated to, our standard protocol is to grind the stump to the specified depth, then backfill the hole with grindings. Leaving the area neater & cleaner than we left is our number one priority.
We don't leave you with a giant gaping hole and a mess to clean up once we're gone. Check out the before and after on this large stump! It's like it was never even there literally!
On to the smaller stumps! Out front of the fire station were two smaller trees, but we got those cleaned up as well. No matter the size of the stump, it's always important that the client's needs are communicated so that we can do our job and provide the perfect final result!
Before and After Stump Grinding for Clayton NC Fire
Now that the stumps are removed they can go back with fresh mulch or whatever type of ground cover they prefer! Just without the unsightly stumps in the way.
All in all, it felt great to be able to help transform such an important place in Downtown Clayton. With everything going on in the world, First Responders are the first line of defense in our communities when we need help the most.
I'll be linking below their page, as well as an ongoing GoFundme. They are raising money to build a Fallen Firefighters Memorial. If you've ever wanted to help make a difference in Clayton, now is your chance!
If you are in need of stump grinding in Clayton be sure to contact us or give us a call!
Until next time,
Brent