In a world filled with technology, the answers to almost all of our day-to-day questions are within reach (literally, where's your phone right now?) With most of America stuck at home for a good portion of 2020, you may be looking around your home daydreaming of different ideas to change your property & increase your curb appeal. So should you hire a stump grinding professional or do it yourself?
Why hire contractors when there's a Youtube DIY video for almost every project that comes to mind?
Building raised planter boxes or crafting a new outdoor space may be attainable goals for the average weekend warrior- but when it comes to stump grinding, hiring a professional is the best choice. The cost & time efficiency of a stump grinding professional, as well as insurance & licensure, are the two biggest perks a consumer can receive when hiring a pro.
Efficiency in Hiring a Stump Grinding Professional
Hiring a professional stump grinder will leave you with an end result that looks incredible, but it will also save you money & time when compared to doing it yourself. Many equipment rental companies offer attractive rates on stump grinder rentals until you take into account two key factors; time & equipment deficiencies.
Grinding stumps isn't "hard" per se, however without the needed experience, the equipment operator may find themselves working much less efficiently than a pro.
If you do a one-day rental on a stump grinder, but lack familiarity with the machine itself, you may find yourself spending 2+ days on rental fees when you could have hired a professional to knock the job out in an afternoon.
Because the piece of equipment is a rental, you are relying on the rental company to do their due diligence in maintenance. Skipping out on routine maintenance can cause catastrophic consequences.
A task as simple as sharpening the cutter teeth can cost you hours in unnecessary grind time- affecting your wallet when it comes to the duration of your rental.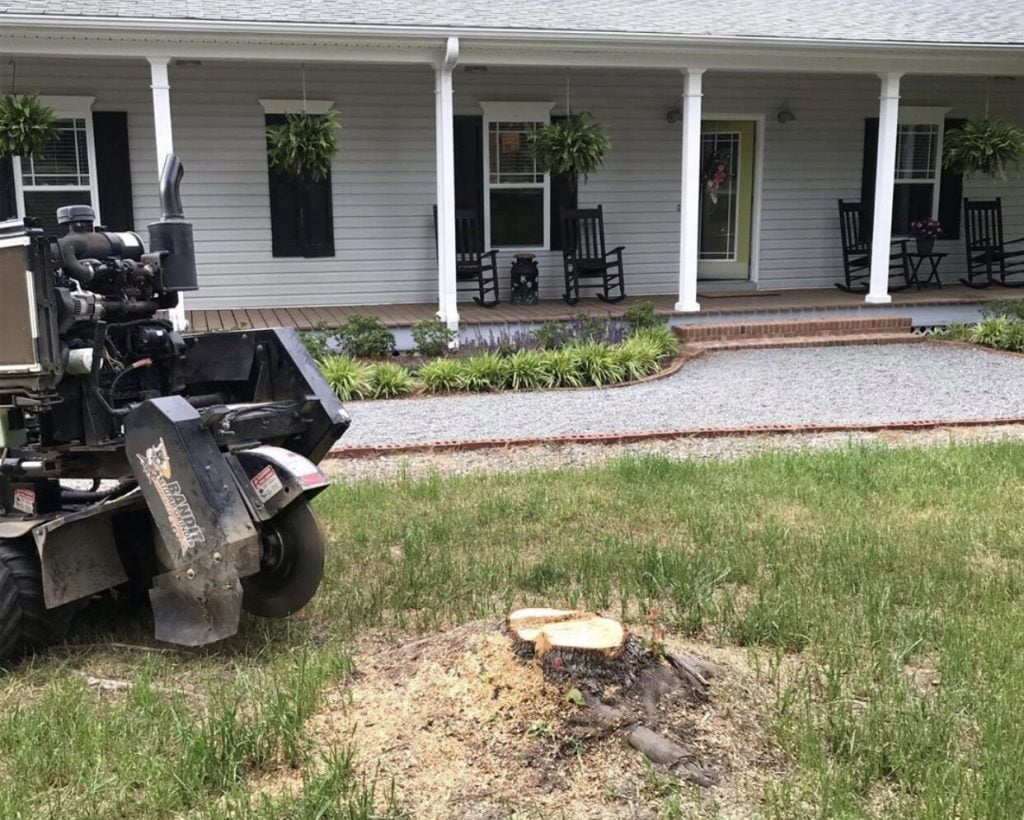 Consumer Protections
Having qualified professionals grind stumps on your property helps to eliminate unforeseen costs when accidents happen. When hiring a contractor (any type for that matter), always ensure that you verify the company has been properly licensed and insured. Business licenses are issued by the government allowing individuals to own a business.
It's also used in tax filing when it comes to income taxes owed by a sole proprietor. If a "company" isn't recognized as a legal business entity by the State… why would you want them working on your property?
Is that a risk you want to take?
If they aren't licensed… are they even insured? Any damages that occur during the stump grinding process (property or otherwise) immediately fall back on the homeowner's home insurance.
Hiring a properly licensed & insured professional keeps you & your home shielded from job-related hazards.

Full Circle Grinding is proud to be a Safe Digging Partner with the NC 811. Underground utilities post a massive risk when doing any sort of underground work, even something as simple as digging a hole to plant a bush.
When choosing a stump grinder, find someone who takes your home, your largest investment, seriously. 811 locate requests are completely free and give a clear picture of where underground work can take place.
I hope this has been informative for you when it comes time to decide if you should hire a Stump Grinding professional? Take a look at some of the local stump grinding jobs we have completed. Our most recent Harnett county stump grinding project was a massive success.
Until next time,
Brent