Always happy to knock out jobs in Johnston County, a place we are proud to call home, but we don't stay in Johnston County all the time! For this job, we headed over to Harnett County NC to do some stump grinding.
This job was out in Coats NC and it was a great one. As I've mentioned before, stump grinding jobs where the stumps are in the front yard are some of my favorites because the completed project always has an immediate effect on the client's curb appeal.
This job was one of these jobs for sure as our client chose to have the grindings removed, an option we always offer to clients looking for that clean and polished look.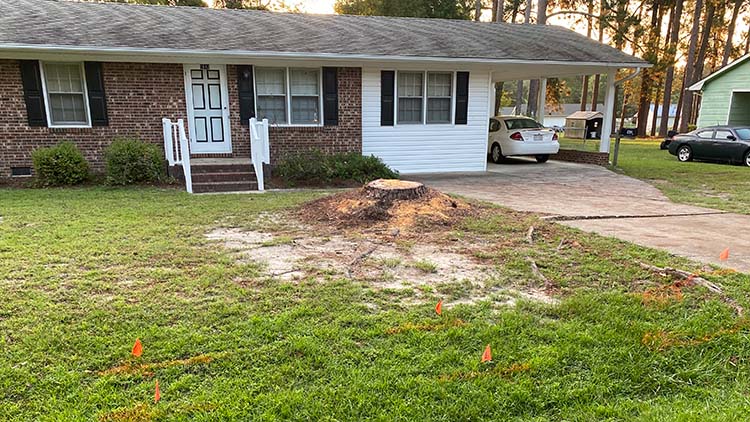 We were called out to remove 2 large pine stumps with mounds for a customer in Coates. As I have discussed in a previous blog post about the cost of stump grinding, mounding is the dirt collected around the base of a stump that is below grade, meaning the visible portion of the stump is not the stump in its entirety.
Think of an iceberg- the tip of the iceberg is not the entire piece of ice, but a small portion of it.
This isn't a problem, but it does mean that there will be more grindings than your typical stump without a mound. We always clean up all of the grindings for our clients and leave the area looking nice and neat when we leave, but if a stump is very large or has a large mound present, there can sometimes be grindings in large quantities which can be cumbersome for the client to manage themselves.
More often than not, utility companies run all of their utility lines, such as gas, power, water, & cable, in the front yard of the property and they run parallel to the road linking all of the houses in the area together.
The utility lines in the front yard are typically near the driveway and sidewalk. We always do our due diligence in placing 811 requests for all of our residential clients to protect their investment, their home, as well as our crew members & equipment. For this job we placed the 811 requests and waited for them to be completed.
811 requests take 3 working days (weekdays). Once the 811 requests were completed, we were good to go!
Look at all of the utilities in the front yard pictured below.
Red paint/flags indicate a power line, orange paint/flags indicate cable/internet, and yellow paint/flags indicate gas lines. In this case, there were multiple cable lines running through the front yard, some of them in conflict with the roots coming off of the stumps.
Because we were well informed and aware of the cable lines before beginning work, we were able to go into the job knowing that we would need extra care and attention when grinding- instead of grinding it all up and potentially causing damage.
Cable and internet lines are often buried the most shallow in the ground, sometimes only a few inches, and we oftentimes are able to pull them up by hand, grind the area, and rebury them. This takes us a little bit longer to grind the stumps, but doing that little bit extra makes all of the difference.
Taking the extra step is super important to us, and helps protect us and our clients!
Time to grind! We got to work and were able to grind these stumps in no time at all.
Only problem?
Because of the mounding on these stumps that I mentioned previously the number of grindings from these two stumps was astronomical!
For smaller jobs, we simply backfill the holes with the grindings and it looks like the stumps & our grinders were never even there!
But for a job like this with large mounding around the stumps, the client was going to be left with large piles of grindings. We always take the time to leave it looking nice and neat, but there is still a lot of debris that is left behind unless the customer specifies that they would like the grindings hauled away in addition to having their stump removed. You can use the grindings for flowerbeds, gardens, or erosion control in any problem areas in your yard.
Assuming the stumps weren't previously treated with any kinds of pesticides, they can be a fantastic addition to composting & gardening! But if you don't have the time or equipment to get these grindings moved, they can become quite cumbersome. We are proud to offer some of the most competitive pricing when it comes to grinding removal, and we can get it knocked out in no time at all.
Thankfully this client arranged for us to remove their grindings so that they didn't have to worry at all about the mess!
Once we got all of the grindings cleared up with our tractor, we were ready to reveal the final product. It looked as if the stumps were never even there! From this point, the customer is ready to begin the groundwork for turf establishment. We always recommend hauling in topsoil as it will give the grass seed the best chance possible to be successful. Then, seeding & putting down hay can take place. It is crucial to always water your grass seed daily at times when the sun is NOT at its peak. Watering in the middle of the day can burn up the grass seed even when hay is present.
At my home, we water any areas that have been seeded early in the morning and at dusk to prevent this from happening and achieve the best possible results. All because our client chose Full Circle Grinding for their stump removal, they can now know that their front yard will be looking its best in the future!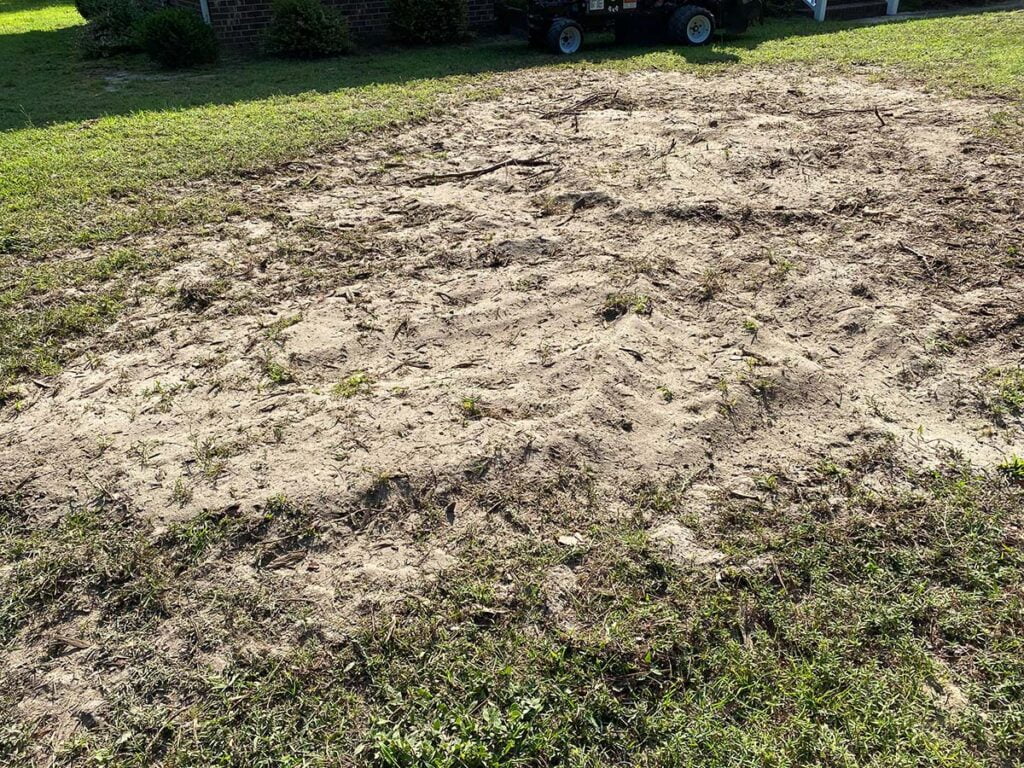 At Full Circle Grinding, there isn't much we can't do. In the rare cases where we feel a job is out of our field, we take the time to offer customized referrals depending on the client's needs with trusted contractors we know & love. We specialize in stump removal but do all sorts of arborist jobs for our clients. Bush-hogging, tree removal, tree trimming, bush & shrub removal, brush removal- you name it, we've done it!
Recently, we completed a job out in the Fuquay-Varina area where we were able to remove some hazardous dead pine trees, thin out a natural area of excessive saplings and brush, and clean up some invasive ivy in the yard.
Our clients were thrilled with the end result! She wrote a review on our Google page:
"Brent and his crew are incredible! I got 3 estimates on clearing some land at the back of my property. I chose Full Circle Grinding because they were highly recommended by friends and their estimate was reasonable. I'm glad I did. I am extremely happy with their work. They did even more than I expected. Thank you, Brent and crew!!"

We also completed a job in Benson, NC for a restaurant developer where we completely transformed the entire property. This included excess bush and shrub removal, tree removal, and tree trimming. (Don't worry, we won't keep these to ourselves, we'll be sure to blog about these too!)
No matter what your needs may be, we are here to help devise a plan to transform your property, whether it be residential or commercial. We offer estimates in-person, as well as virtually for our clients who are on the go. We see your vision and do our part to help make that vision a reality.