When you think of a tree stump, a common image may come to mind. Round, relatively flat, low to the ground, something like the picture below. But a lot of the time, we find ourselves stumbling upon some pretty gnarly-looking stumps, especially in North Carolina. Maybe your NC stump grinding project looks like an average stump, but its proximity to other items on your property concerns you.
Many of our clients are surprised to find out how affordable stump grinding is for these stumps that may be wicked in appearance or in concerning locations. Because we have been in the business for a while now, we bring a lot of learned knowledge and experience with us when we come out to do your estimate- leaving no questions unanswered, and a fantastic, affordable stump grinding experience.
Stumps like the ones pictured above are pretty common, but not all stumps are created equal. Thankfully, we are the best for the job bringing years of experience, efficient equipment, and streamlined systems to get things done the right way. We are able to grind stumps in the Johnston County area at the most competitive prices.
I'm going to go through some of the wilder stumps we've ground over the years to show you that no stump is too crazy for us to handle, and to not be worried about affordability when contemplating removal.
Uprooted Stumps with Trunks Attached
These stumps are especially common in our area. Because Johnston County is still relatively rural, large oaks and pines are everywhere. Combine that with rainy seasons and even hurricanes and you'll find a lot of these giants toppling over when the ground becomes too saturated for the root systems to hold on during gusty winds.
The biggest nuisance of hurricanes is the downed trees- causing road blockages, property damage, power outages, and unfortunately property damage. When this happens, a stump is your last priority. Getting the large tree out of your yard comes first, and often times the uprooted stump will still have some large trunk attached when we arrive. This is not an issue whatsoever, and we are able to knock these out in as little as an afternoon. You'll see below in the before and after pictures how seamlessly we were able to grind the uprooted stump, root systems, and trunk in no time.
These jobs may have more grindings leftover than most, but we are always sure to clean up properly and backfill the hole left with the grindings to prevent any hazards presented by the large hole the rootball may have left. If that's not what you're looking for, we also provide grindings removal for an additional cost.
Once we finish the job, it will look as if the tree was never even there. And even though the first picture may look daunting to your checkbook, affordable stump grinding is what we specialize in first and foremost.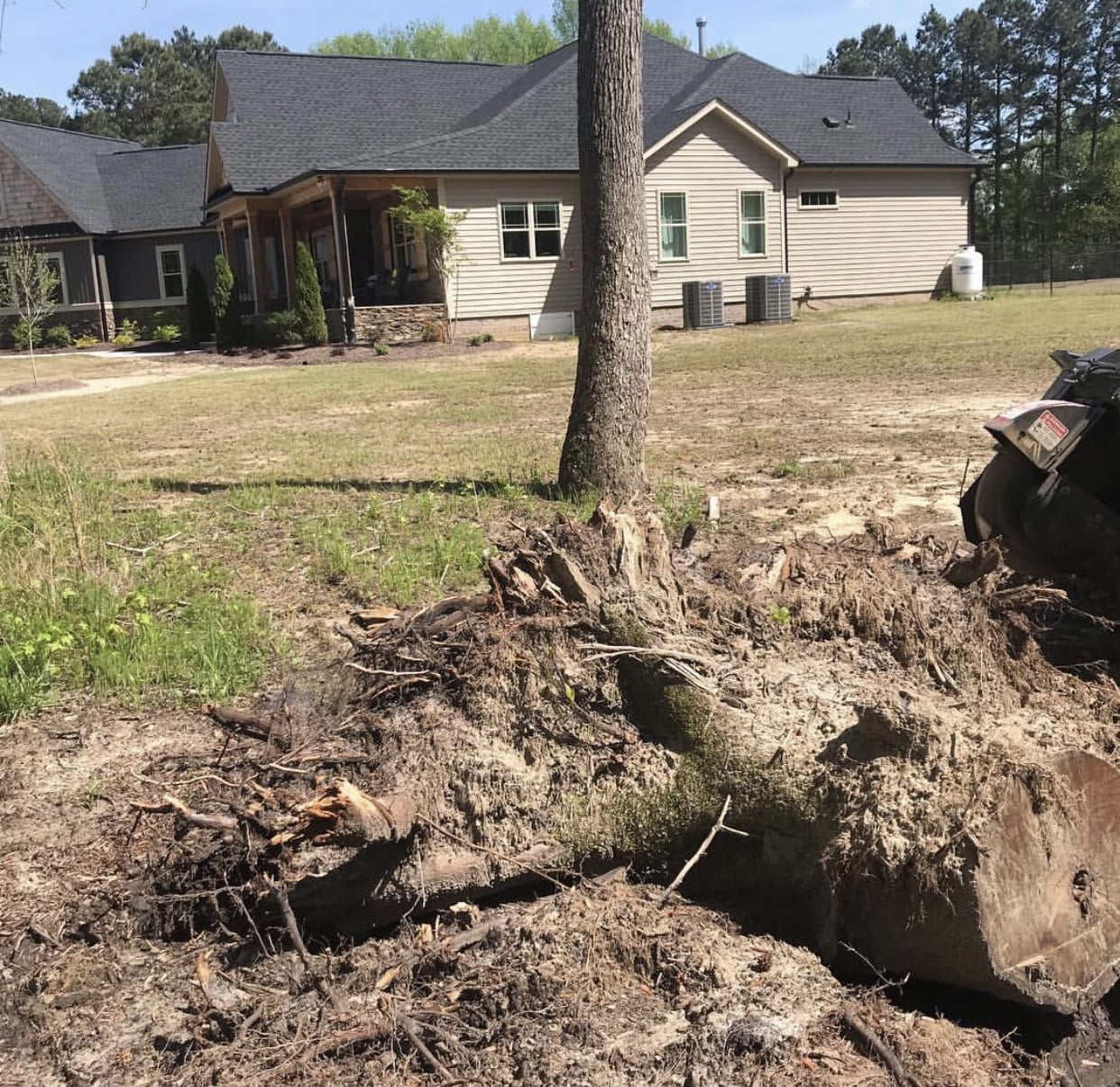 Stumps with Brush Still Attached
These may be bushes, small dead trees, or stumps where regrowth has begun to occur. We are able to offer affordable debris removal, or in some cases, we will be able to grind whatever is there.
We will always give multiple options for our clients and leave them to decide what works best for them. Pictured below is a client who had five bushes that had been precut, but the trunks still extended a few feet into the air.
We were able to come in and trim these trunks down with a chainsaw, remove all of the debris, and grind the stumps in no time at all. Stump grinding doesn't mean we grind tree stumps exclusively we spend a lot of time doing the removal of smaller stumps in large quantities. These jobs are super quick and we are usually in and out in a couple of hours.
The transformation is incredible as well, turning a tired flowerbed into a blank canvas for the homeowner or landscaper to dramatically improve the area once we've completed the job. Affordable NC stump grinding is good, but affordable full-service tree care with debris removal is even better.
Stumps Beside Foundations
Stump grinders are large and powerful machines. They are able to remove stumps using grinding wheels that spin really fast with grinder teeth to chip away at a stump little by little.
Because of this, you may be concerned when it comes to a stump that is only inches away from your foundation- but we've got it handled. Because of our experience and compact machinery, we are able to surgically remove these stumps from tight spots without any issue. Pictured below is a stump around 4 inches from the corner of a brick foundation.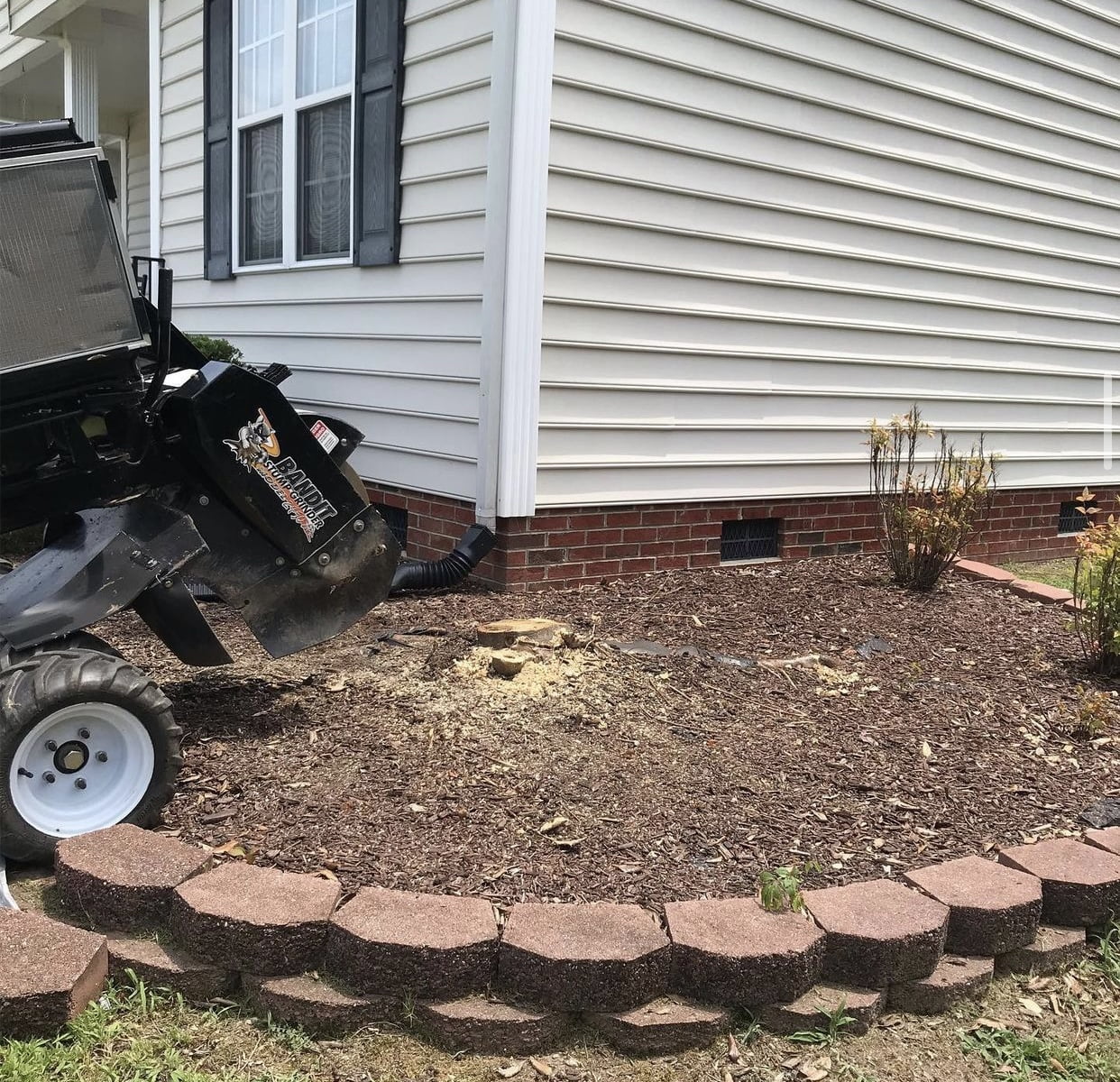 We were able to remove this stump in less than an hour and leave the customer without any problems. We've also done these jobs at a much larger scale if you look back at our blog post "Foundations of Stump Removal: Stump Grinding in Smithfield" where we removed a MASSIVE stump beside the new foundation of an addition being built at a church in Smithfield.
You can always trust that we will provide affordable stump grinding no matter how big or small the job may be, and no matter how precarious the job may appear.
Stumps Near Undergound Utilities
When doing anything underground in your yard, even something as simple as planting a small tree, it is always important to take precautions when dealing with the prospect of underground utilities. So we begin your NC stump grinding project by calling NC811.
Underground utilities include internet cable, electricity, city water, and gas lines. We have ground many stumps that appear to be close to these, and always do our part to ensure the client, the client's home, and our crews are all safe and well informed before beginning work.
When dealing with all of our stump grinding jobs, we use NC811 to have utility locate requests placed before beginning work. Locate companies will come out and use different color paints on the client's grass to let us know exactly where the power, water, gas, and cable run on the property.
NC Stump Grinding Project Conclusion
This lets us know how and where we can grind. Pictured below is a stump we were called out to remove on a new construction lot after the power had already been installed.
Even though it appears to be somewhat of a daunting job to complete, it wasn't. We took the necessary precautions and were able to provide affordable stump grinding for our client and seamlessly remove this stump leaving the crews with the illusion that it was never even there.
No matter what kind of stumps there may be or how close they are to structures or utility lines, you're always going to be in good hands with us. Our expertise comes from meticulous attention to detail and our years of experience. Whether it's utility worries, uprooted hurricane messes, debris attached to the stumps, or even some problem that we may not have listed here- affordable stump grinding is not out of your reach!
Johnston County is a growing area that we are proud to call home, and we hope that you choose us for all of your tree and stump grinding needs to get the job done right the first time. Now that you know your stump at home isn't that big of a deal- go ahead and give us a call to see how affordable your stump grinding estimate will be!