Clayton stump grinding located in the heart of Johnston County has never been busier with all of the new construction homes coming to our area.
Although we love being involved in tree removals and stump removals at new construction properties, stump grinding at existing properties typically has the best before and after photos.
The Job
Clayton has always been near and dear to our hearts as this is where we started our business.
We were called out to remove stumps on this gorgeous property in Glen Laurel at a home at The Neuse Golf Club.
The property owner was wanting to have all of the stumps removed so that they could bring a landscaping company to finish up the property. We were happy to get involved as stump grinding in Clayton is one of our favorite places to work.
There were stumps all around the property, some in the front yard, some near the front sidewalk, back sidewalk, in the side yard — they were all over. By having us remove the stumps, the landscaper would have a clean slate to get started transforming this property without any stumps in the way.
We got started out front with a stump nearby the driveway.
Stump Removal Process
There were two other stumps to be removed out front, one centered in the yard and one near the sidewalk. Because a landscaper will be coming out to re-do the yard, the grindings were left in place — however, we offer stump grinding removal on all of our jobs to clients that need it!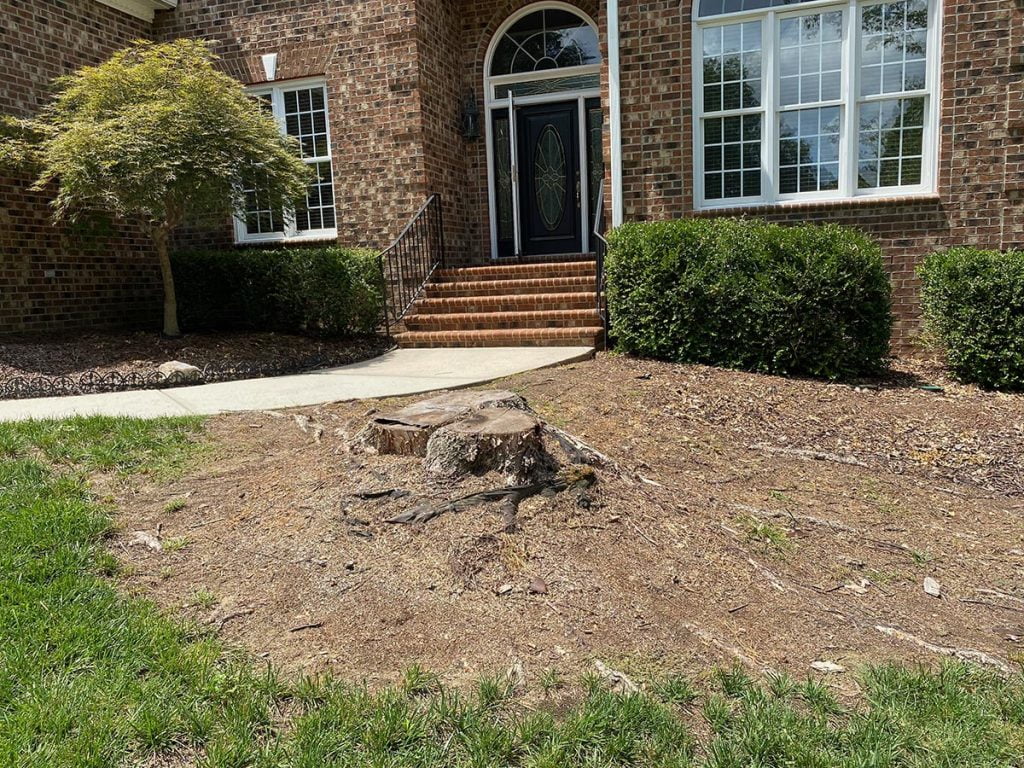 When you are ready to have your stumps ground, be sure to ask us about that service as well. For jobs where we leave the grindings in place, we always take the extra time to rake and blow the grindings back into the hole and leave the job looking tailored and neat. This attention to detail is what sets us apart from other stump grinders in the area as we always leave the job looking better than how we found it.
After we got the front yard finished, we moved around to the side yard. This stump was near the driveway and the back porch. These are some of our favorite ones to grind because the stump grinding before and after photos look so great!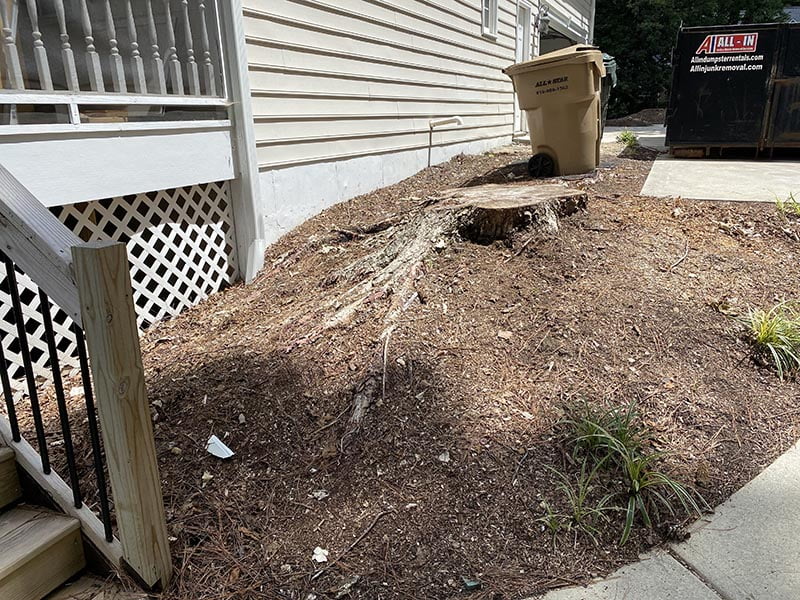 Stump Grinding Cleanup
Clayton stump grinding companies shouldn't be leaving a mess for a homeowner to clean up. Always look for the highest attention to detail when hiring a contractor of any type of job at your home. Is the drywall installer going to bring their own vacuum to clean up the drywall dust? Is the painter going to come in and bring all of the needed tarps and plastics?
Compromising for a sub-par contractor is compromising your finished product.
By choosing the best in the business you ensure that your biggest investment, your home, is well taken care of. As I mentioned before, the client had us leave the grindings in place, but we didn't just "leave them" there.
By cleaning up the grindings once we are finished, it leaves the job looking polished and clean giving the homeowner the best-finished product possible.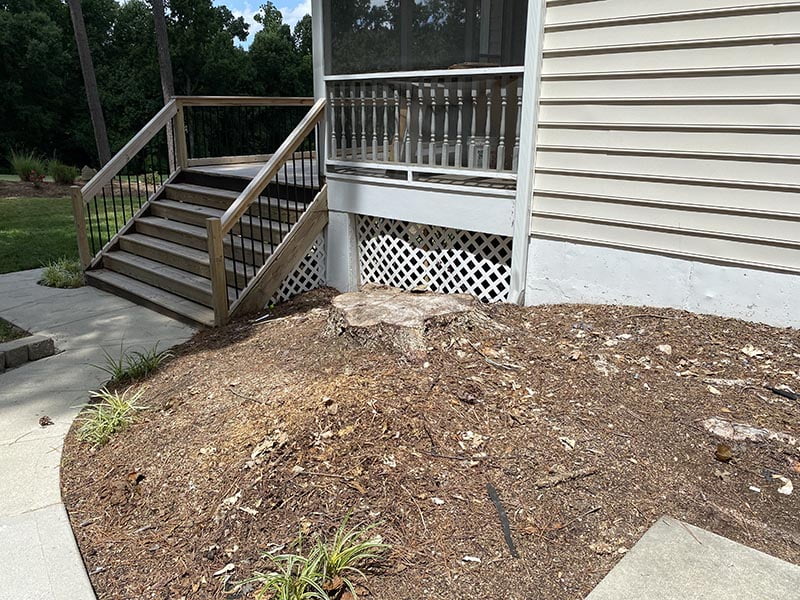 Here's another angle of this stump on the side of the property. We love the way that this finished up and helped improve the look of the porch steps and really do this beautiful home justice. We're so glad to be able to help this property look its best.
The next collection of stumps were down along the sidewalk at the back porch. A lot of stumps from shrubs and bushes are very easy to remove and don't take very much time at all. Even though they are small stumps, the before and after when grinding them is very drastic and makes a huge difference in the curb appeal. By removing these stumps we are presenting the homeowner with a clean slate to do whatever he chooses with the area. The homeowner can have his landscaper come out and do new mulch, rock, or pine straw and plant new shrubs/plants in their place.
Planting after Stump Grinding
Planting after stump grinding is very easy to do, especially when you high a quality Clayton stump grinding company.
When a client wishes to plant directly on top of an existing stump, we are sure to remove the stump completely down to a level of 12+ inches below grade. This ensures that the new plant is successful in growing.
Most times clients will want to plant near the old stump, not on top of it, and in this case, we can remove the stump to 6 inches below grade. This also goes for planting grass after stump grinding.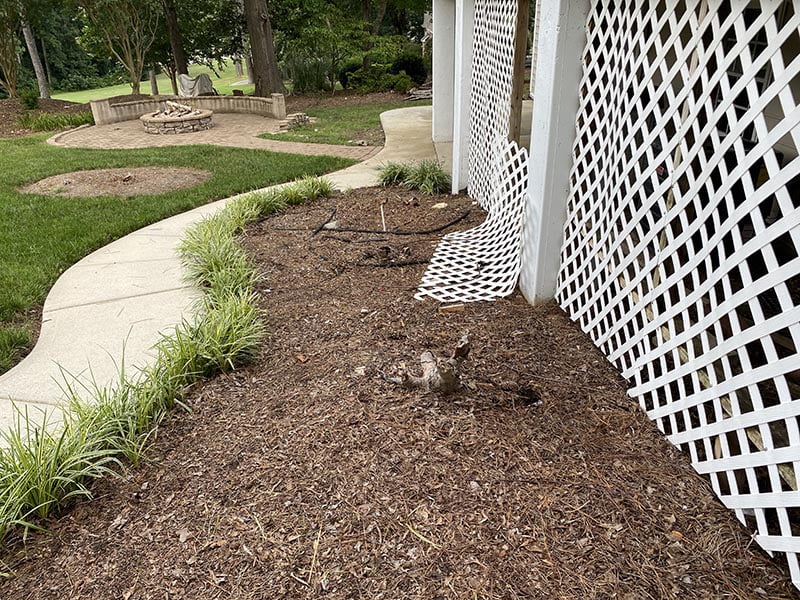 To ensure proper turf establishment, we always grind 6 inches below grade and advise the homeowner to backfill the area with dirt before getting started.
The Last Stump!
Now on to the last stump. This stump is on the other side of the back sidewalk.
If we had to guess, the homeowner will likely have the landscaper remove these grindings and install sod in its place. We were sure to keep all the grindings contained and left neat and clean so that the sod installation if that's what they decide to go with, goes quickly without having to deal with a mess.
As you can see in the after photo of this stump, we ground several of the large surface area roots from this stump in particular. This is a process called root tracing.
We have several different methods for creating easy, hassle-free estimates on these- be sure to ask us about them when you give us a call!
This job was one of our favorites as we didn't just grind a couple of stumps but every single stump on the property. Jobs like these are great as we get to see an entire property transform, not just one angle of it.
Ready to start your Clayton Stump Grinding Project?
It's September now, and you know what that means!
In just a few short months the holidays will be here as the weather gets cooler, and families will be gathering for Thanksgiving and Christmas.
Are you hosting at your house this year?
Do you want to go ahead and get your stumps removed to impress your guests?
Get in touch with us today to schedule your free estimate and we will be happy to discuss your future plans for your property & see how we can help your home look its best as we wrap up 2021.