We do a lot of jobs within our community of Johnston County, but we are more than happy to accommodate those outside our normal boundaries! I was thrilled to grind this stump out in Harnett County a couple of weeks ago in downtown Dunn. While highlighting the process of how we grind stumps, I will go through some of the frequently asked questions when it comes to stump grinding. This Harnett County stump grinding project was a fun one to tackle! Plus we were able to do affordable stump grinding for this Harnett County customer!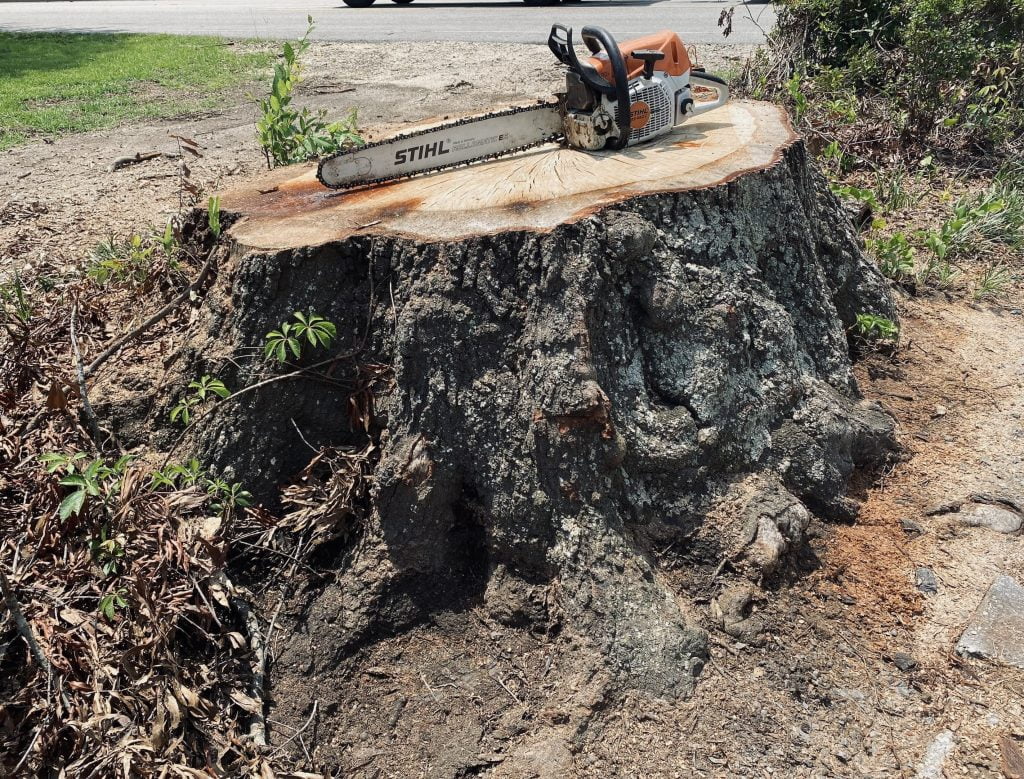 Do the future plans for the space affect how we grind the stump?
Before we get started, we make sure to communicate with our clients to find out the future plans for the area once the stump is removed. Are you planning on planting after stump grinding?
Do you want to plant grass after the stump is ground? Are you needing the stump grindings removed once the job is completed? All of these factors affect the stump grinding price as well as how long it takes to grind the stump.
In this case, our client was hoping to have this monster stump removed so that he could have some more room in his driveway and add some more gravel- meaning we won't have to grind as deep as we would for someone wanting to plant a new tree where the stump once stood.
How do you grind a stump?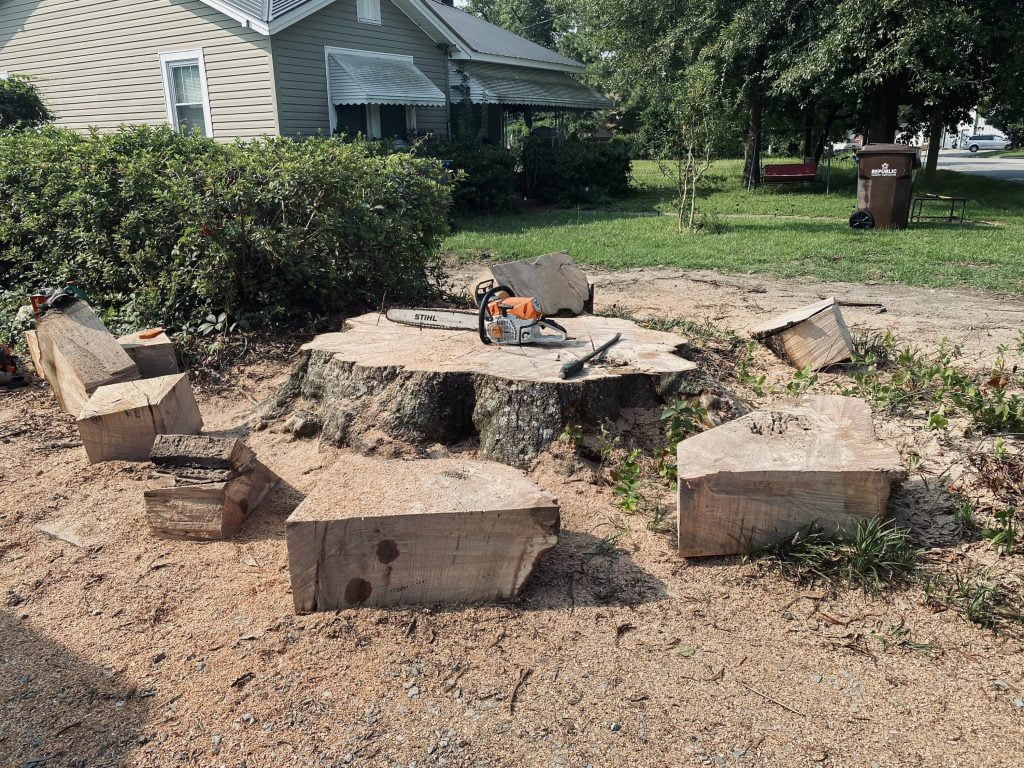 Because this stump was SO large, we had to get it cut down to a manageable size. This helps to cut down on the time we spend grinding. After cutting the stump down to about 1/3 of what it used to be, we were able to come in with the stump grinder and finish up the job. Grinding seems to be relatively simple, but it takes a lot of experience and finesses to properly grind a stump the way a client needs it ground.
All grinders are designed differently, but for the most part, it consists of making slow passes to the left and right to take it one layer at a time. This is where the precision comes in. Rushing through causes subpar results and excessive wear and tear to the equipment. We're hoping to get some video content out soon and will be sure to link it once we've got it!
What should I do with the stump grindings?
Most of our clients opt to leave the grindings in place. We always take the time to backfill the hole with the grindings and leave the area looking tailored and clean. Grindings are great for erosion control on uneven grades and can be a good base layer for turf establishment in the future (although dirt will have to be added on top to get the grass started off right). In some cases, the client will wish to have the grindings removed completely which we can always take care of for an additional fee.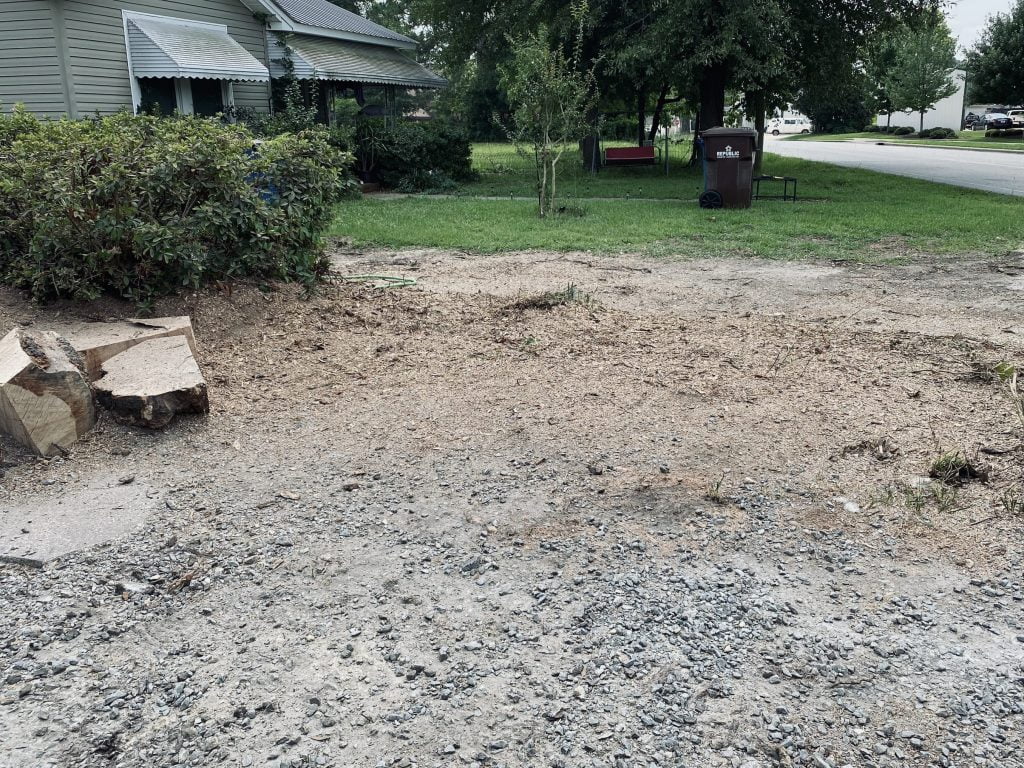 When it comes to owning property, why would you ever want to waste it? With a stump of this size, around 6 feet in diameter at the base, a pretty big piece of your hard-earned property is rendered useless. I know at this point you're probably looking for the before and after of this stump, we ground so here it is! By removing this stump we were able to provide our client with more usable space in his driveway to make his daily life a lot easier.
If you're looking to have stumps ground at your home or place of business, there's no better place to start than our "Get A Quote" button up top. We can't wait to hear from you and see what kind of landscaping goals you're hoping to achieve by removing the stumps on your property!
Have some stumps to grind?
We are ready to quote your stump grinding project at no obligation to you. Our 100% free quotes can be done in person or virtually. If you need stumps removed be sure to contact us today.